Every Tree from Stewart's Trees
is held to the Highest Standards of Quality.
Look to Stewart's Tree Service, Inc for your next landscaping project.
welcome to Stewart's Trees!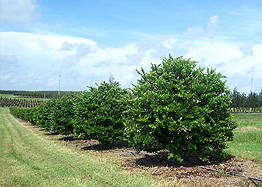 Stewart's Tree Service, Inc. is a family owned and operated landscaping tree nursery grower with over forty years in business. Our success is based on a foundation of quality, customer service and providing only quality grown trees to our customers. Our owner and founder, Jimmy Stewart is one of the most knowledgeable professionals in the industry and helped found Roots Plus Growers an organization committed to providing the healthiest trees possible to its customers.
Our customers are landscapers, developers, golf course contractors, architects, and theme parks, as well as the occasional homeowner. You will find Stewart's Trees on many high profile jobs such as the Arbor Greene development in Tampa, Walt Disney World, SeaWorld and installed at celebrity homes such as Hulk Hogan in Clearwater.
More
Tree Spotlight
Bracken's Brown Beauty Magnolia
Mature Height: 30 – 50'
Mature Width: 15 – 30'
Grow Zones: 5b - 6
The Bracken's Brown Beauty Magnolia is known for its attractive dark green leaves and large fragrant flowers.
More